Beleaguered General Electric (GE) shareholders had another gut check today when JP Morgan's Stephen Tusa cut the price target to $6. Tusa is predicting that by 2020 the company will have six segments producing zero free cash flow.
Here is what Tusa had to say about the GE debacle.
"Out of the 8 reported segments, all of which were profitable even 2 years ago, 6 are now likely either at or below zero in 2020, with leverage actually up since that time.

"In other words, we estimate material dilution from weak fundamentals and portfolio moves, with little in return, going against the notion from a year ago that the company could get $20 [billion] in value without diluting the run rate of earnings/FCF."

"While the stock is down 70% from the peak of $30, this move still does not sufficiently reflect the fundamental facts, in our view."

"While liquidity is certainly debatable, we believe this is not really about liquidity, it's about a deterioration in run rate fundamentals."
It's no secret that Tusa has been spot on with GE and with good reason. GE has not even come close to guidance of $1.05 to 1.10 earlier this year. Will GE get to $6? Maybe, that will depend on whether there are any more big shoes to drop.
What will GE earn in 2019?
Investors did not get guidance on the last conference call. Tusa is expecting $0.35 cents a share for 2019 and $0.41 for 2020. The street was looking for nearly twice that number.
I have no idea if GE will earn $0.40 for 2020, because I don't believe management has a handle on how severe or long the downturn will last in the Power segment. My biggest concern besides Power is GE Capital and it's need for more liquidity.
Why I sold my recently purchased shares on Thursday after studying the 10Q.
I wrote an article last weekend titled "GE in Capitulation Time to Buy?" You can read that piece here.
I spent a few hours reading the 10Q: I am not an accountant, I don't play one on TV and I did not spent the night in a Holiday Inn last night. That being said I did not like what I read about GE Capital.
Reading a 10Q from General Electric is enough to give you a headache and serious indigestion if your holding a large position. On Wednesday I bought several thousand shares between $9.16 – $9.22 thinking I just might have nailed the bottom.
Later that afternoon I decided to dig deeper into the 10Q for a 2nd time. Power division losses and GE Capital's lack of clarity sealed the deal for me. I decided to get out as I was sure Tusa would come out and hit GE hard. I sold 30% of my position at the close on Wednesday and went to bed worried about the next gap down.
Needless to say I dumped my whole position Thursday morning from $9.18 to $9.26 only wanting to get out of the drama. I was out of the trade by 6:40 AM for a loss around a $100, I felt lucky.
Little did I know that the next day the dreaded $6 call would come from Tusa, he must have been seeing what I saw; massive losses and continued write downs with no end in sight.
Seeing GE trade at $8.21 today and not buying was actually very difficult for this trader as it felt a bit like capitulation. In this case, I have no trust in management to fix GE any time soon.
Is GE Capital going to need another cash infusion from GE?
In 2017 GE received a $4B dividend from GE Capital. In 2018 the dividend was suspended. In the latest earnings announcement management revealed that they will need to fund many more billions to keep their legacy division solvent.
This is from page 29 of the 10Q.
In my view this is an issue that must be clarified by management. I highly encourage anyone considering investing or invested in this stock to read this page and then crack open the 10Q and have a look.
How much more liquidity could be required over the next few years?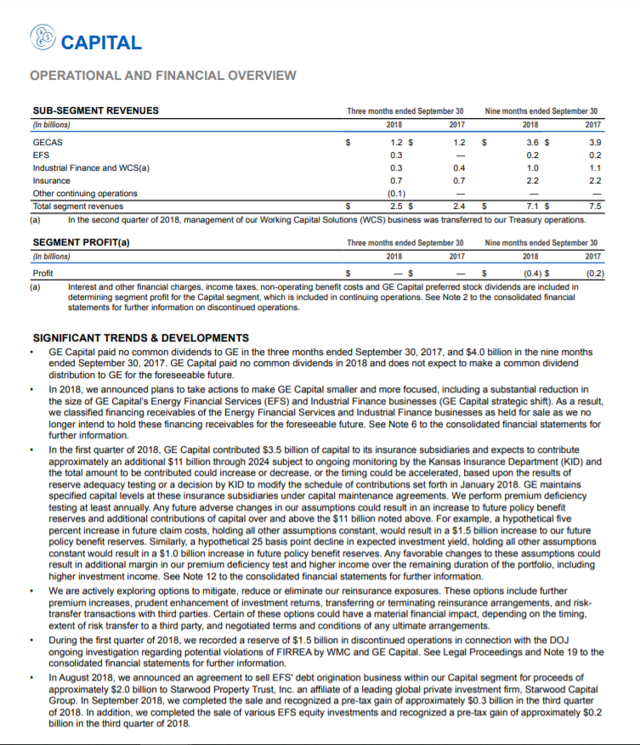 So GE finds itself in a situation where they went from receiving a dividend the first 9 months of 2017 of $4B to ZERO. GE Capital expects to make no dividend contributions for the foreseeable future. This is not good for GE or shareholders, GE needed that cash flow to fund operations and now its gone.
To make mattes worse they had to contribute $3.5B of capital to the insurance division and will need to contribute another $11B through 2024. IF you continue on you will read that the Kansas Insurance Dept. could increase or decrease reserves depending on premium deficiency, which they look at once a year.
It's entirely possible that the company would have to pay well beyond the $11B noted above. That is a huge swing; you lose $4B a year in dividends for 6 years which equals $24B and have to contribute a minimum of $14.5B through 2024. That is $38.5B in loss in cash flow over a 6 year time frame.
These are old insurance policies that the company is stuck with. People are living longer than ever before and the insurance costs go up all the time. I believe it is important to note that a 5% increase in future claims could result in another $1.5B increase to future policy benefit reserves.
Where does it stop? Can management actually tell shareholders the absolute worst case scenario so investors and analysts can get a grip on the actual magnitude of the problem?
This is a can of worms that I want no part of as an investor. As much as I wanted to believe in GE as an iconic American Company; I now have doubts about their ability to make any positive cash flow for years.
In my view their accounting practices leave a lot to be desired.
I see lawsuits as far as the eye can see.
I truly believe that GE is in a world of trouble with the SEC and lawsuits from investors that feel they were mislead by previous managements guidance.
Multiple class actions lawsuits are already in the works, every quarter the case seems to get better for the plaintiffs. GE has caused massive pain for many a weary shareholder, at some point they are going to have to pay. How much? Only the shadow knows at this point.
CEO Larry Culp buys $2.2M worth of shares.
Larry Culp bought 225,000 shares for an average price of $9.73 this week. In my view it is important to understand that this seems bullish on the face and it could be, however it is like me spending 3,000 on shares. Not that big a deal. Important note: many companies require that the CEO take a substantial stake in a company in which they are taking over control.
Mr. Culp is now upside down a little over a dollar a share, or $258,750 to be exact. If he really wants to make a statement to the market he could buy $10 million on Monday morning in a sell off or near the current level. I believe that would get the attention of the street and inspire confidence among some investors.
Is GE going to turn it around any time soon?
Not in the next 12 months, but that doesn't mean the stock cannot bounce hard.
Did GE bottom today? Maybe, the bottoming process takes time. Today was likely the first salvo in several attempts to break $8. The stock could take off and rally back to $11 and then turn around and come back for a visit in 30 days. A more likely scenario is the dreaded year end tax loss selling which could continue to pressure the stock.
Here's a look at a 10 year weekly chart.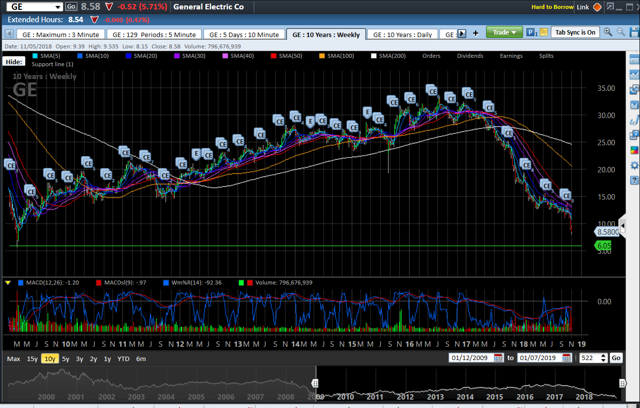 Everyone wants to buy the absolute bottom on a big name like GE. It's not hard to see why Tusa hit GE with a $6 target, look at the chart. He is gunning for a total round trip retest of the March 2009 low. It looks like capitulation right here and now and the fact that I do not want to own it might be proof. But I digress.
Management must do a better job of communicating
Larry Culp has a very limited amount of time to stop the bleeding and be very straight forward with shareholders. GE Capital needs to be discussed in an open forum with clear and precise communication.
Bottom Line
GE is in the dog house, investors are fleeing the name because they do not trust management. Fool me once, shame on you, fool me twice shame on me.
Until Larry Culp can take control and communicate exactly what is happening with GE Capital's legacy insurance liabilities, I am not even going to consider this company.
GE has no clarity in GE Capital, no profits and no dividend to pay you while you wait. Every earnings report brings a multi billion dollar write down or impairment charge.
Why not instead look at a company that is making all time record profits like Apple (AAPL) a complete opposite of GE. Apple is clocking record high profits in all segments, on every metric.
Investors should consider hedging if you still must try and game the bottom. Trust is my main issue here, I have none for GE.
As always, do your own research, crack open a 10Q and study. I believe it is imperative to have an exit strategy in place before making any trade;it can help keep you grounded in times of high volatility.
Disclosure: I/we have no positions in any stocks mentioned, and no plans to initiate any positions within the next 72 hours.
I wrote this article myself, and it expresses my own opinions. I am not receiving compensation for it (other than from Seeking Alpha). I have no business relationship with any company whose stock is mentioned in this article.