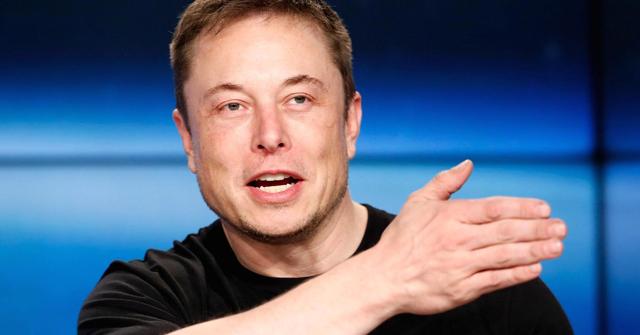 Source: CNBC.com
Tesla: A Buying Opportunity
Tesla (TSLA) reported its earnings results after the bell on Wednesday March 2nd. But despite the much better than expected numbers the stock got taken out to the woodshed the next day. Tesla's stock got slammed by nearly 10% the following session, before recovering some of the losses to close lower by more than 5% on the trading day Thursday.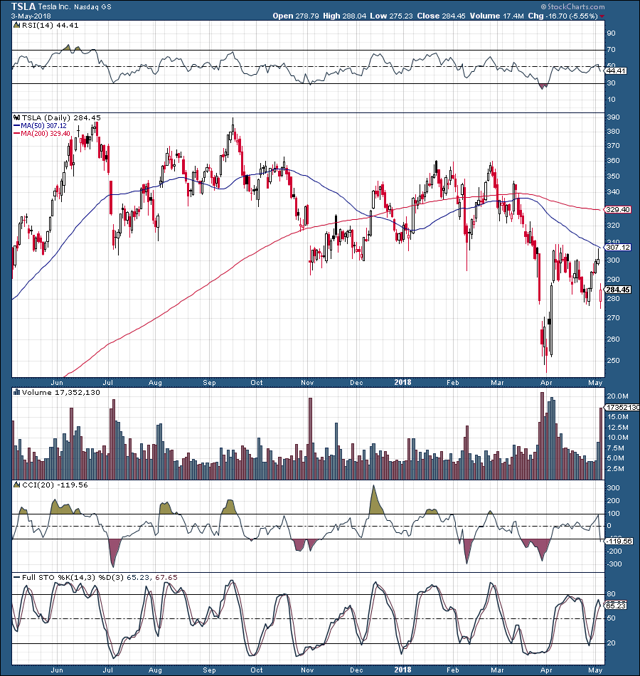 Source: StockCharts.com
Could this have something to do with Elon Musk's unconventional performance during the conference call? It appears that calling legitimate analyst questions boring, uncool, and bonehead may not be the best way to hold a Q and A session.
Nevertheless, a lot of constructive information was released in the report, and the current selloff appears to be an overreaction by shaky investors due to a volatile performance by the company's CEO. But despite the noise, the fundamental story at Tesla is strengthening, and notable progress is evident in key areas of the company's operations. Ultimately, Tesla should continue to grow revenues and improve margins, and is likely to become profitable sometime in mid-2019.
Q1 Earnings: Much Better Than Expected
Revenue came in at roughly $3.41 billion, 6% above the $3.22 billion consensus estimates figure.
Also, revenue was up by 26% over the $2.7 billion produced in the same quarter last year.
On an EPS basis, Tesla beat estimates by roughly 6% as the company reported a narrower than expected loss for the quarter, $3.35 per share vs $3.58 loss expected by analysts.
The company now expects to spend less on capex in 2018, under $3 billion vs estimated $3.4 billion.
Tesla's cash position was $2.7 billion at the end of Q1, this included $984 million in customer deposits.
Also, the CEO said the company did not need or want to raise any more capital.
Instead, the company is banking on improved profitability from the Model 3.
Right now, Model 3 gross margin is still negative, at the end of Q2 Tesla expects to be close to break even, and then the company expects to make a quantum leap to highly positive in Q3 and Q4.
Long term gross margin for the Model 3 is expected to be 25%, and should be achieved in mid-2019.
The company reiterated its aim to hit 5,000 Model 3s per week production by Q3 and expects to be GAAP profitable in Q3 and Q4 this year.
So, Why the Selloff – Is the Sky Really Falling?
Despite the better than expected earnings results the stock sold off after hours and declined by as much as $25, or nearly 10% the next day. However, the stock regained some ground and closed down by about $16, a loss of more than 5% on the day. The peculiar thing is that the stock ticked up by a few dollars shortly following the results as investors found some comfort in the improved numbers released by Tesla. It wasn't until well into the earnings call session that shares began to slide.
So, what happened? It appears that some investors got spooked by the odd way some of the Q and A session was conducted, and simply decided to dump their Tesla stock.
Tesla's "Remarkable" Earnings Call
It was an unconventional earnings call with talk about "fluff robots" and "bonehead" analyst questions. But the ultimate point of it may have been that the company has endured through some extraordinary challenges in recent months.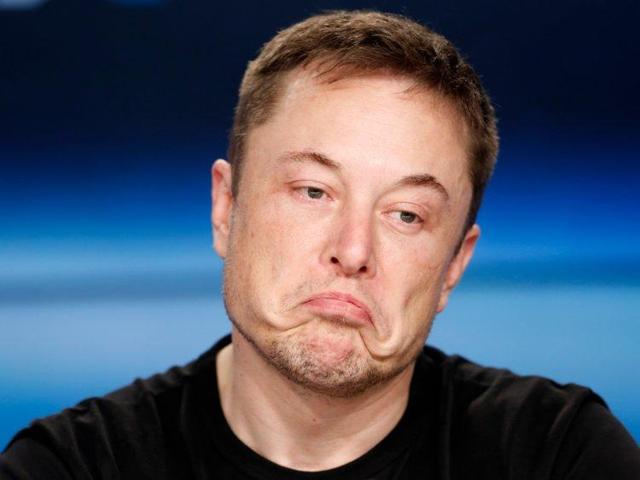 Source: BusinessInsider.com
Elon Musk refused to answer certain questions about Model 3 profitability, and other elements he deemed boring and uncool, as he cut Wall Street analysts off on several occasions, choosing to field "more interesting" questions from SA's own Galileo Russell instead.
Naturally, this kind of irregular behavior raised some eyebrows and caused an unnecessary downtick in the stock. But can you really blame Elon Musk for being a bit short with certain analysts?
Understandably, Tesla's CEO has a lot on his plate between Tesla's Model 3 woes, the company's future growth prospects, SpaceX, and other ventures. You can understand why he may be a bit unnerved by a continuous barrage of questions designed to accentuate Tesla's weaker points. Was Elon being a nice guy when he basically told certain analysts to close their mouths? No, of course not. But this also doesn't seem like a valid reason to sell Tesla's stock.
More importantly, the company is showing significant signs of improvement in cost management, production, and in other key areas. Tesla expects to have capex spending below $3 billion this year, ahead of analysts' previous $3.4 billion estimates. Moreover, it appears that the company is now successfully running roughly 3,000 Model 3s per week and is on schedule to hit its 5K target by the end of Q2 this year.
Tesla's Gross Margin Continues to Improve
Another extremely important element is that Tesla showed an increase in its automotive gross margin which improved to 19.7% from 18.9% last quarter. But more importantly, specifically sales which includes Model 3 production surged from 15.4% in Q3 2017 to 16.9% in Q4 2017, and now to 18.4% in Q1 2018.
There is a clear trend developing, and Model 3 production is visibly improving. I expect we can see similar automotive sales gross margin improvements of roughly 1.5% increments over the next several quarters. I'm looking for 20% automotive sales gross margin by the end of Q2, and 23-24% by the end of this year.
What is Model 3's Gross Margin?
The company said that Model S/X gross margin came in at slightly above 25%. Tesla delivered 21,815 Model S/X vehicles in Q1. So, when we apply a typical ASP of $92,500-95,000 for a Model S/X vehicle we see that roughly$2.02-2.07 billion in sales can be attributed to Model S/X. A 25% gross margin provides us with about $505-517.5 million in automotive sales gross profit from Model S/X sales.
Total auto sales gross profit was $470.48 million for the quarter and since the 21,815 Model S/X cars made up $505-517.5 million in gross income, gross profit for the 8,182 Model 3s delivered in the quarter was negative. Perhaps this is why Elon Musk thought some questions surrounding Model 3's gross margins were "boring and uncool".
But on a more serious note, if roughly $2.02-2.07 billion can be attributed to Model S/X sales in the quarter then the remaining $540-490 million in revenues can be attributed to the 8,182 Model 3s delivered in the quarter. This provides us with an approximate ASP of about $60,000-66,000 per a Model 3 vehicle in Q1. This is much higher than the advertised $35,000 Model 3 price tag, but is somewhat understandable considering that "first" configuration models were packed with premium features capable of driving the price well above $50,000. The ASP should drop substantially over time to about $45,000.
Also, if we subtract the auto sales gross profit $470.48 million from Model S/X gross profit of $505-517.5 million we see that Tesla lost between $34.5-47 million on its 8,182 Model 3s. Since the Model 3 lost between $34.5-47 million in gross profit on $540-490 million in revenues the cars gross margin was likely between -6.4% to -9.5% for the quarter.
Once again I can clearly see why Elon shied away from "boring" questions aimed at probing current Model 3 profitability. According to my analysis, Tesla lost approximately between $4-6K for each Model 3 vehicle produced in the quarter.
Do You Want the Good News?
Just because the Model 3 is unprofitable now does not mean it is going to stay that way. Profitability has already improved significantly over the last few quarters, and if you think -6.4% to -9.5% is bad now, just imagine what the Model 3 numbers looked like over the previous two quarters. So, the situation is improving, moreover, the Model 3 is likely to become much more profitable with scale going forward.
Tesla has already announced that it will be optimizing Model 3 production continuously until 25% gross margins are reached. The company also plans to install upgrades to the Model 3 line throughout Q2 that should significantly improve productivity and profitability pertaining to Model 3 production. Ultimately, Tesla expects to be GAAP profitable and cash flow positive in Q3 and Q4 of this year.
Personal View
Like many of Elon Musk's extremely ambitious projections, this looks like wishful thinking given the current circumstances. However, as Model 3 production gets above 5K a week, and the company significantly improves productivity and efficiency surrounding the vehicle, gross margins will continue to improve. As the overall automotive gross margin approaches 25% next year the company is very likely to become GAAP profitable sometime in mid-2019.
Model 3: The Best Selling Sedan in America?
Elon Musk said the Model 3 will have 30% to 40% share, possibly majority market share of the mid-sized premium sedan market, and I agree with him. In fact, it's not just mid-sized luxury sedans, the Model 3 is likely to effectively capture significant market share in the entry level premium sedan market as well.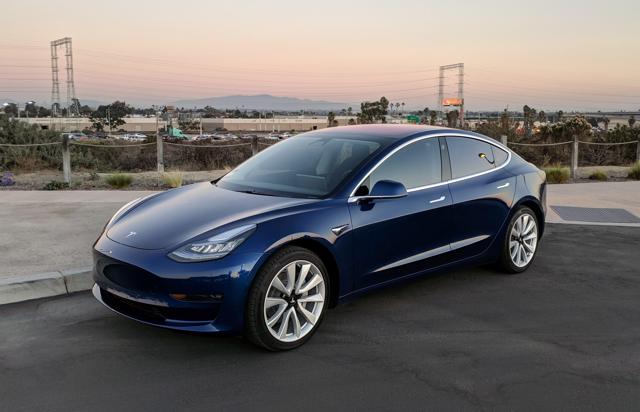 Source: InsideEVs.com
Most consumers look for several key factors when buying a vehicle in the entry and mid-sized luxury sedan market. Most buyers look for interior space, comfort, design, appropriate price and relatively good performance. With the Model 3 consumers get it all, and perhaps most importantly car buyers receive an unforgettable user experience. The Model 3 is a unique vehicle, and due to its versatility, the car can compete very effectively in both the entry and mid-sized luxury sedan segments.
So, What Kind of Demand Will Model 3 Attract?
Tesla reported that the company had a massive backlog of about 450,000 Model 3 reservations. This suggests that despite Tesla's transient setbacks on production the Model 3 remains the most highly anticipated vehicle in history. We also know that the Model S has been dominating large luxury sedan sales in the U.S. in recent years. In fact, the Model S typically outsells its 3 nearest competitors combined in the U.S.
Due to the increased advantages Tesla's vehicles provide and the overall "Tesla Effect" it is conceivable that the Model 3 can replicate a similar success rate in its respective segments as well. In 2017, roughly 300,000 vehicles were sold in the mid-sized luxury sedan market in the U.S. A 30% – 50% market share rate would provide Tesla with sales of roughly 100,000-150,000 Model 3 units annually in this segment alone.
However, the entry level premium sedan market is even larger, and with about 450,000 units sold in this segment in 2017 the Model 3 can achieve sales of approximately 150,000-225,000 based on similar metrics. This suggests the Model 3 may attract massive demand of roughly 250,000-375,000 Model 3s annually in the U.S. alone.
In addition, just like demand for its Model S/X vehicles, about 50% of Model 3 sales are likely to come from outside the U.S. in coming years. This implies the Model 3 is likely to produce 500,000-750,000 in annual unit sales in future years. This is in line with the CEO's projections for 700,000 Model 3 vehicles per year, and is on par with combined sales of competitors' BMW 3 series' 400,000 annual sales, and Audi A3's 330,000 annual sales. 700,000 Model 3s at an ASP of $45,000 will bring in revenues of about $31.5 billion from the Model 3 vehicle segment alone.
Therefore, Tesla is very likely to continue to grow its revenues by at least 40-50% for the next several years. Tesla's average annual revenue growth rate over the past 5 years has been roughly 60%. With Model 3 demand and production booming, revenues could conceivably accelerate before a meaningful slowdown can be seen. Therefore, a growth rate of about 40-50% makes sense here. It is also important to note that future revenue streams will include Tesla Semi, Model Y, Roadster 2, and increased energy generation and storage revenues as well. The 40-50% projection may be low considering the facts but for the sake of modesty I will apply this growth rate in the model.
Revenue and Profit Prospects
Beyond this year's projected $20 billion in revenue, I use a 50% growth rate next year and in 2020, and then reduce the growth rate to 40% in 2021 and 2022. This brings us to about $88 billion in total revenues for Tesla in 2022. A 25% gross margin rate would produce a gross profit of about $22 billion in 2022. This gives Tesla quite a bit of earnings potential and the company could conceivably turn about 50% of its gross profit into net income, which would equate to about $11 billion in net income in 2022. $11 billion in net income provides roughly $64 in EPS and using a modest 25 times valuation would imply a stock price of about $1,600 is achievable by this time.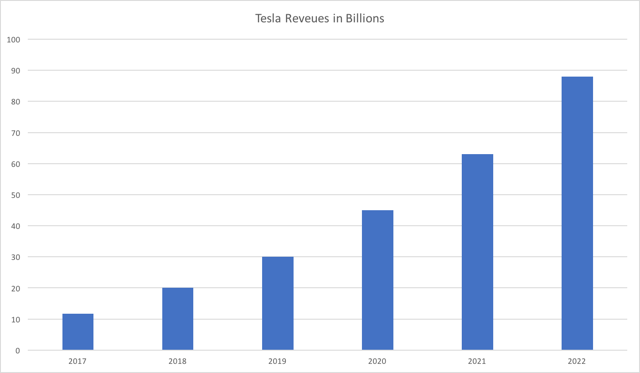 Source: Author's Chart
Naturally, these are rough projections but they illustrate that this is essentially a numbers game for Tesla. Some skeptics say revenues don't matter because the company is not showing profits now, but of course revenues matter. They matter a lot, and the more the company grows its revenues now and in the years to come the easier it will be for Tesla to derive significant profits from those revenues 5, 10, and 15 years down the line.
The Bottom Line
Tesla reported a much better than expected quarter. Revenues, EPS, costs, cash, and margins came in better than many analysts had expected. Moreover, the company reaffirmed, and guided higher on several production and profitability metrics as well. Gross margins continue to improve and the company could become profitable sooner than many market participants believe.
Yes, the earnings call was "interesting" and unconventional by many metrics but that should not overshadow the clear breakthroughs happening in Model 3 production and on various other key fronts. The overreaction by investors is likely a buying opportunity for Tesla shares and the stock will probably begin to move higher from here.
Buckle up, because Tesla is not simply passing through. Tesla represents the future of the auto industry. Conceivably, the company will revolutionize the auto industry as far as direct selling, autonomous driving, super charging, software, interactivity, and even manufacturing is concerned. Also, as Tesla builds a base from which to modernize and optimize the auto industry the company is simultaneously creating a formidable infrastructure Tesla can leverage to implement its economies of scale as well as its multidimensional competitive advantage to dominate the future auto industry.
Tesla's Greatest Threat
Besides Tesla itself, the greatest threat to the company remains another recession. In a significant downturn revenue growth is likely to slow significantly, and financing may even dry up for Tesla. In this case, the company's shares would likely appear substantially overvalued and the stock would probably trade a lot lower. Nevertheless, the declines would still most likely be transient and the stock would very likely recover over time.
Disclaimer: This article expresses solely my opinions, is produced for informational purposes only, and is not a recommendation to buy or sell any securities. Investing comes with risk to loss of principal. Please always conduct your own research and consider your investment decisions very carefully.
To receive real time updates, and get more information about this idea as well as other crucial topics please visit Albright Investment Group's Marketplace service. Try a free trial and receive access to exclusive content, trade triggers, strategies, price action alerts, and price targets. Theses value adding features are available only to members of our trading community, and are not typically discussed in public articles.
Disclosure: I am/we are long TSLA.
I wrote this article myself, and it expresses my own opinions. I am not receiving compensation for it (other than from Seeking Alpha). I have no business relationship with any company whose stock is mentioned in this article.
Related Posts: