Whenever a stock performs as Nvidia (NVDA) has a voice in my head begins sounds the alarm. "Caution should rule the day when investors move in herds!" this voice intones.
I am, of course, not immune to the movement of crowds. But I am suspicious of the stars aligning for a company so perfectly as they have for the GPU-market leader. And boy, have they: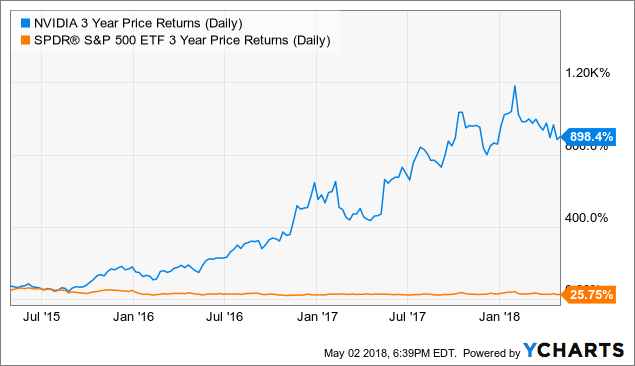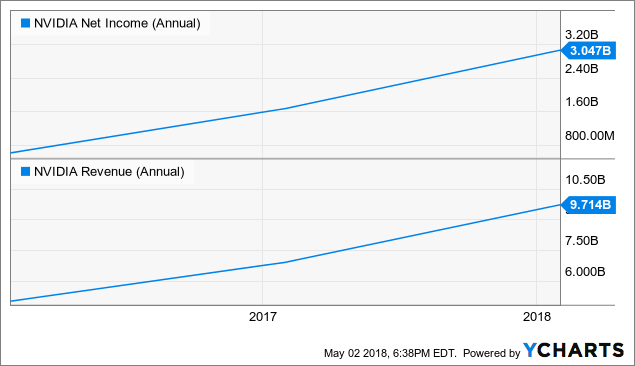 Nvidia is the darling of Wall Street. Sitting at the intersection of today's buzzwords: Artificial Intelligence, Deep Learning, Big Data, and of course the company's bread-and-butter Graphics Processor Chips.
As I argued in March 29th's "Nvidia Stock Buyers are Likely to Be Disappointed" the good times can't roll forever. Excess profits will attract competition. I wasn't aware of just how right I was until I read Akram Razor's "Attn. Cramer: Nvidia – The Ultimate Short Thesis."
The piece is long, but it is well worth a read if not for anything other than the author's exhaustive analysis of Nvidia's technology standing and emerging competitive forces.
A few major points are worth remembering:
1. Cryptocurrency mining (a favorite use for Nvidia"S GPU cards which has led to massive secondary-market price increases) is cooling off. This is problematic, as JPR Research estimated that cryptocurrency miners bought 3 million GPU's in 2017. Akram estimates that figure to be much higher, likely in the range of 50% of Nvidia's total GPU demand in 2017. I'll take his word for it (I'm no chip expert), but I will never forget the first time I looked up the aftermarket price for an Nvidia chip via Google Search and instantly thinking back to the 1990's Beanie Baby craze…
2. AMD is coming out with new GPU cards in 2019 that will give Nvidia's offerings a fight.
3. The use of GPU's built by Nvidia and its major competitor in the space, AMD, for cryptocurrency mining is waning. Bitmain's ASIC products have arrived and, simply because they are built for the task of mining cryptocurrencies, they are multitudes more efficient. Bitmain's Antminer S9 is delivering 13,000x the hash power of today's top GPU's (read: Nvidia).
4. Google (NASDAQ:GOOG) (NASDAQ:GOOGL) is coming. More specifically, Alphabet 's Tensorflow has emerged as the favorite developer platform for Machine Learning/Deep Learning developers (a position long held by Nvidia via its own GPU-powered software ecosystem). This is giving it the inside track to release what could be devastating for NVDA: Google's Tensor Processor Units (TPU's). As Akram put it: "Nvidia's been essentially the only hardware player in the space, and TensorFlow is going to end up being the Trojan Horse for the enemies at their gate."
I'm no data scientist, but…
I am no technological expert, but I am an investor. Economics 101 dictates that Nvidia's success would eventually attract competition: that day seems to have arrived. As I noted in my original piece, Nvidia is a fantastic organization that trailblazed what turned out to be an incredibly useful bit of technology: the GPU. Once used for video games it now has a host of applications for building the world of tomorrow.
Alas, technological advances don't always equate to investor rewards. And so I must ask: what's in it for me and anyone else that buys in?
They can keep their "deep learning," I'll stick with my used envelope…
First, a few essential data points. Nvidia has absolutely crushed it over the past five years or so: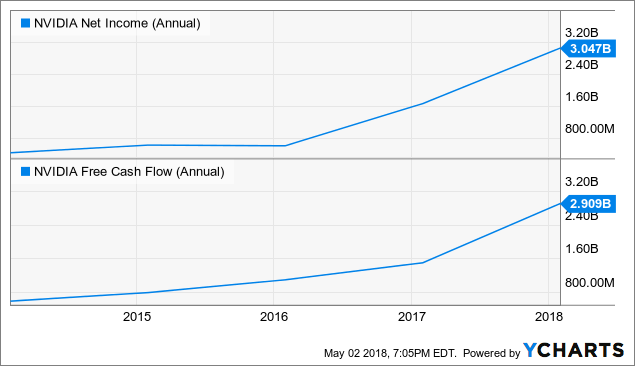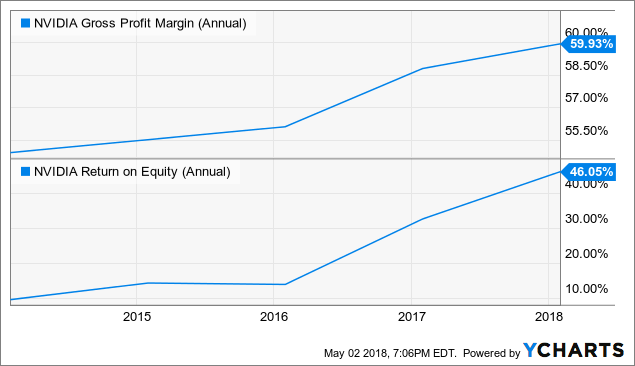 Next, let's take stock of where we are with NVDA's, well … stock. What better way to do that, than to compare them to the other chip company that built our modern world: Intel (INTC).
| | | |
| --- | --- | --- |
| | Nvidia | Intel |
| Market Capitalization | $138 billion | $244 billion |
| Trailing P/E | 47 | 26 |
| Forward P/E | 31.22 | 13.8 |
| FY 2017 YoY Revenue Growth | 40.57% | 5.67% |
| FY 2017 Revenue | $9.71 billion | $62.76 billion |
| FY 2017 Net Income | $3.05 billion | $9.6 billion |
Source: Data taken from Thomson Reuters via Yahoo Finance. Market-based data as of May 2, 2018.
Investors expect NVDA to conquer the world. And why not? They have been making a pretty good go of it thus far. But what would that look like for investors?
Let's make this simple, and imagine what Nvidia would look like five years from now (since the last five years have been so kind to NVDA) at various, reasonable annual return rates:
| | | |
| --- | --- | --- |
| | 2023 Market Capitalization | Approximate share price (no dilution) |
| 8% | $202.77 billion | $334 |
| 10% | $222.25 billion | $366 |
| 12% | $243.20 billion | $400 |
| 15% | $277.57 billion | $457 |
| 20% | $343.39 billion | $565 |
| 25% | $421.14 billion | $693 |
| 30% | $512.38 billion | $844 |
Source: Author Calculations.
To earn the kind of returns NVDA shareholders are used to, NVDA would have to become one of the world's largest corporations by 2023.
Then there's that pesky multiple-shrinkable I mentioned in my March article. What I mean, was that as companies grow, they tend to grow at slower rates with each passing year. This slower growth rate leaves investors uninspired, and they (rightly) assign the company a lower multiple to earnings.
Here's what analysts would have to think Nvidia capable of reporting in Net Income in FY 2024 under a range of multiple scenarios (which I believe are fair, given INTC's multiples listed above).
| | | | |
| --- | --- | --- | --- |
| 2023 Market Capitalization | Total Profit Estimates for 20x Forward P/E | Total Profit Estimates for 20x Forward P/E | Total Profit for 15x Forward P/E |
| $202.77 billion | $10.14 billion | $11.59 billion | $13.52 billion |
| $222.25 billion | $11.11 billion | $12.70 billion | $14.82 billion |
| $243.20 billion | $12.16 billion | $13.90 billion | $16.21 billion |
| $277.57 billion | $13.88 billion | $15.86 billion | $18.50 billion |
| $343.39 billion | $17.17 billion | $19.62 billion | $22.89 billion |
| $421.14 billion | $21.06 billion | $24.07 billion | $28.08 billion |
| $512.38 billion | $25.62 billion | $29.28 billion | $34.16 billion |
Source: Author calculations.
The reader can no doubt see where I'm going with this line of thinking. To earn investors, say, a 10% annual return through 2023 (thus giving NVDA a market capitalization of $222 billion assuming no significant dilution) it will have to be guided to earn $12.7 billion for the following year.
What investors need to know
Let's say all has gone according to play and Nvidia is worth $250 billion in 2023. Its GPU's maintain their lead and, in a world with increasing VR demand, it truly has become the "New Intel." For 2024, it is expected to earn somewhere between $12 and $14 billion.
A $250 billion market cap, assuming little share dilution, will give NVDA a share price in the final year of our little thought experiment of ~$410. Interestingly, it's current quotation will provide investors with an annual return of a little over 12% ignoring dividends. Not bad!
But are investors being compensated for the risks associated with NVDA (or any technology company for that matter) with our admittedly "wishy-washy" 12% return guess? I would argue no. Just as NVDA has benefited from the windfall of cryptocurrency mining a negative unforeseen by anyone in the world today could just as quickly fell the company.
The incredibly simple solution to this problem, as put simply by Warren Buffett, is to come up with a fair value for a stock and "take a whack at the number." This gives us a decent chance at a good return and a margin of safety.
Given the ocean of unknowns, and having reflected on the findings of our simplistic-but-powerful thought experiment, I would argue no investor can commit new capital to NVDA stock anywhere above $150. Anything above that is counting on a "Goldilocks scenario" for anything more than a return that matches the broad stock market's long-term averages. At $150 per NVDA share, an investor stands a decent chance of earning a market-beating return, while allowing for inevitable bumps in the road.
There are, of course, a range of future scenarios that could play out. But it's the job of an investor to figure out the most likely scenario while also planning for the worst. Nvidia is competing in one of the toughest markets there is, dealing with a constantly changing technological landscape. Such an investment candidate requires a high-hurdle, not the low-bar Wall Street seems to be comfortable setting for NVDA at present.
Disclosure: I/we have no positions in any stocks mentioned, and no plans to initiate any positions within the next 72 hours.
I wrote this article myself, and it expresses my own opinions. I am not receiving compensation for it (other than from Seeking Alpha). I have no business relationship with any company whose stock is mentioned in this article.
Related Posts: